Last Friday, the team hosted an impromptu (more or less, announced 24hrs in advance) Townhall (number 40), which saw over 300 community members in live attendance. If you want to (re-)experience the event, be sure to check out our recording of the event.
This meeting focused on 3 main topics:
Volant Station – Showroom R2.1.1 patch
Destination Starbase
Star Atlas DAO & PIP 1
Below is our report on the event, which also sported BCM (aka BlockChain Man, aka Michael Wade) and Dan Park as special guests.
Introduction
As Santi (Community Director) is enjoying a well-deserved holiday, Dominic (Community Manager) took over and co-hosted the Townhall with Michael Wagner (CEO).
They start off by going over the releases and events of the last few weeks.
San Diego Event & Meetup
Michael called out to anyone interested in attending the Solana PlayGG event in San Diego, on July 18th & 19th. The entrance is free of charge, and Michael will be there, along with other team members, to present Star Atlas and give a few demos on those two days.
On top of that, there will be a Star Atlas Brew Meetup, a community gathering, in San Diego on Wednesday, July 19th, at a local brewery. Dominic and Michael have both confirmed they will be present. More information can be found on Discord.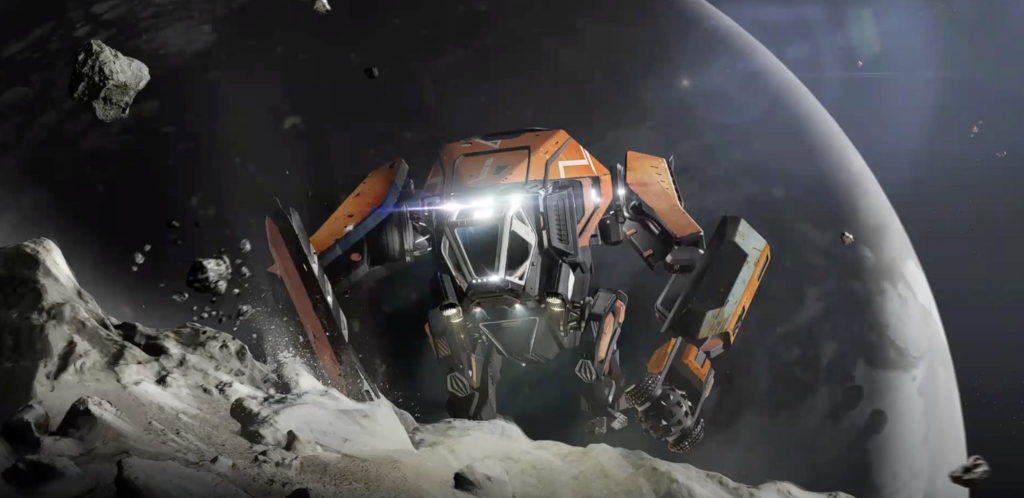 Showroom R2.1.1 Patch
The first topic on the agenda: a new patch for the UE5 Showroom experience is coming out: R2.1.1.
This patch was released a few hours after the Townhall concluded.
Patch Notes
Here are the patch notes (not shared during the Townhall, but included for your convenience):
GENERAL
Fixed an issue where players would launch the game for the first time and hadn't chosen a character, loading any game mode and ending up half underground in the hangar.
Added Ship Selection Screen to the Main Menu.
Ship Selection and Player Selection screen is now active in loadout.
Background Music is now persistent throughout all game modes.
Fixed an issue where ESC to pull up menu and interact wasn't persistent across all screens.
Fixed an issue where jetpack camera shake would persist after entering a ship.
Added the ability for clients (non host) to see their projectiles when shooting.
Fixed "Use Session ID" button.
Updated West Outdoor Pad teleport location to prevent character being placed in the ground
PHOTO MODE
Fixed an issue where the wrong photo was published in the Discord forum.
Fixed an issue where exiting photo mode would cause a player to lose control of their ship.
Fixed an issue where "Gallery" wasn't loading photos taken.
Fixed a bug where the 'R' key wouldn't enable rotation mode.
Fixed an issue where photomode filters wouldn't work for client
GROUND RACING
Fixed an issue where some gates were not counted when passed near the border.
Race can now be started by any player with the correct ship and not just the host.
Fixed an issue where players could fly away from the racetrack after passing a few gates. Ground race track should support only hover mode now.
Fixed the UI of the loading screen.
DOGFIGHTING ARENA
Fixed an issue where the NPC ships wouldn't give a player the chance to mount a ship.
Fixed an issue where ships would blast off into the air when pressing F11 (Respawn).
Fixed an issue where enemies weren't shooting the player
OUTPOST 39 (EXPERIMENTAL MODE)
Fixed an issue where the map would load too long during a Multiplayer session, resulting in players timing out. We extended the timeout period so the Flower Hunt game mode could be started.
SHIPS
Performance improvements.
Animation fixes for the Opal Jet, Fimbul ECOS Unibomba, Pearce X4, Calico Medtech and Floyd Line Aerospace One.
Fixed camera issues for a variety of ships.
Fixed an issue where the Floyd Line Aerospace One lasers wouldn't show when firing.
Fixed Floyd Line Aerospace One issue where client would see the pink landing gear Skeletal Mesh
Fixed an issue where characters wouldn't disappear when mounting work in progress ships (Jetjet head).
Adjusted sound mixing on several ships.
Reduced interaction volumes on ships with interiors to prevent possessing the ship from outside the cockpit.
Fixed an issue where the VZUS Opod wasn't flyable.
Updated glass material to avoid flicker in 1st person camera mode for several ships.
CHARACTERS
Fixed an issue where some players would not be able to sprint after using the jetpack.
VOLANT AIR TRACK
Fixed several Volant air track targets that were far from their intended location
Destination Starbase
Continuation of the StartSequence campaign the team kicked off last year. This time the team is offering three different Armstrong Industrial Mining Platform (IMP) ships, spanning Small, Medium & Capital sizes.
Destination Starbase will see the team offering 30% of their inventory of these ships, at a one-time 50% discount (vs origination price). Michael added that they plan to add the remainder of their inventory to the marketplace when:
This discounted allocation sells out, or
SAGE: REC goes live
The 50% discount won't apply to this additional allocation.
Release: Wednesday, June 28th
Armstrong IMP
These ships have dual-function utility among the existing programs that are live on the Play-portal site. You will be able to use your IMP ships to participate in both Faction Fleet (SCORE) and Faction Claims, though a ship can only participate in one at a time. If an IMP ship participates in Faction Fleet, it will generate ATLAS like any other ship. If it's participating in Faction Claims, it will generate R4 instead.
SAGE: REC
In the next release of SAGE, the Resource Extraction & Crafting module, you will be using your own ships to extract materials (R20) from asteroids and other celestial bodies, use them in crafting formulas to create other materials and resources, and manage the logistics of the supply chain.
[Red: Note that Aephia expects SAGE: REC to go live in Q3, but not before August.]
Ship V2 Config
The team finished their Ship Configuration overhaul (also dubbed Ship Config V2), and they will publish the updated ship stats on the Galactic Marketplace next week, on either Wednesday or Thursday.
Star Atlas DAO
Dan Park kicked off. The team is building the DAO as decentralized and autonomous as possible. In its initial state, it's not there yet, but this is the goal.
Dan Park briefly explains what the Star Atlas Foundation is:
The Star Atlas Foundation is a separate legal entity that serves and protects the DAO. [… It] carries out critical functions in service of the DAO. It essentially steps in when there are real-world processes that can not be automated by smart contracts. For example, a written contract with a third party.

Dan Park
Blockchain Man, the Project Manager for the DAO, comes on to talk about the Star Atlas DAO:
The Star Atlas DAO is built on a community-first and community-driven ethos. It empowers players to have a voice in how the Star Atlas metaverse is realized. Through important aspects of game design & balance, economic & treasury levers, as well as structural improvements within and outside of the game itself.

The DAO, in essence, is the way in which we will make fundamental decisions about the metaverse that we're building. And is the way in which the community will take the reins, and help guide the economic and gameplay development of the Star Atlas metaverse.

BCM
Release: Wednesday, June 28th
The team is proud to, after putting in months of work, move their first Polis-Improvement-Proposal (PIP 1) into the Declaration phase. This is the first of 4 phases every proposal has to move through before being adopted.
The four phases for PIP1 (and future proposals) are:
Declaration – PIP 1 starts here next week, with the release of the updated Governance App (on the SA DAO Platform)
Deliberation – Expected to take 4-6 weeks of debate; this will feature public comments, ongoing community interest-vote, and at least one live debate session (TH-type event with the community)
Decision – Official on-chain vote; will take two weeks
Democratic Convergence – Ratify and open the gates for Star Atlas council elections (part of PIP 1).
Early 2024 is when the team expects to open the doors to community-created proposals.
PIP1
PIP1 has 3 defining articles:
Blockchain Supremacy Clause – Underscores that the DAO is bound to a set of programs and accounts that operate on the Solana blockchain. Code is law, basically.
Star Atlas Constitution – Enshrines our guiding principles of quality & safety, Community Ownership, and sustainable governance. It also details how the governance process works.
Ratify the Star Atlas Foundation – Our real-world agent, will act on behalf of the DAO and Earth-based legal & business matters.
Passage of PIP1 will allow ATMTA to formally bring the Star Atlas DAO into being.
BCM added, PIP1 builds on the principles set forth in the White Paper, Economics Paper, and Sustainable Governance papers, which are the DAO's foundational documents.
Governance App
The Governance App will be updated this coming Wednesday. You will need to have at least some POLIS locked in the POLIS Locker, in order to be able to access the new governance segment, focused on PIP1.
There will be a new Proposals tab in the POLIS Locker, that opens a page that will (eventually) list all the active proposals. For now (this year), it will only show PIP1.
BCM demos the new segment and shows the new authentication flow for the comment section (basically, you sign an off-chain message). This will allow you to post new comments and replies to others. There is a report button and edit functionality as well.
There is also something called Endorsement. Every comment shows by whom it is authored, and this also the amount of Polis Voting Power (PVP) they have. The Endorse button will allow you to endorse someone else's comment.
Next to the summary and comment section is a Public Interest Voting system. It's off-chain, and only there for the proposal's initiator. It shows the amount of PVP that is in favor of the measure, and the amount of PVP that is not in favor of it.
Proposal Flow
Next up, BCM walks us through the full Proposal Flow.
You have an idea and share it with others. You can refine it until it works (or abandon it) and then share it with the Star Atlas Council. They are the liaison between you and the Star Atlas team. BCM will be the team representative for the next 6 months and will check how to implement it and what needs to be done from a technical perspective.
During this time, the team will keep an eye on the Public Interest Votes (Interest Gauge). When the total amount of community-owned PVP that is involved exceeds 10% (may change), then it has enough support to move it to the next phase of the project.
Michael adds that they expect a significant inflow of proposals when they open it up. They will need a system to prioritize the proposals that succeeded when implementing their outcome. The Interest Gauge will also be used by the team to see which proposals have the highest interest from the community, which is what the team will look at when doing this prioritization.
After this, it will go to on-chain voting. When Voting will be activated, there will be a 48-hour delay, and then it will be open for two weeks for voting. Then, if it makes it, the Foundation will enact it.
Community Proposals
On the topic of Community Proposals, Dan Park adds that everyone can, in the near term, create proposals outside of the platform and share them in the #governance channel on Discord. If such proposals find a critical mass, the team is able to manually elevate community proposals such proposals to the platform this year, while the platform does not yet allow anyone to add proposals themselves.
If the team sees that community members put in the time to use the template created by the team, to create a proposal that seems to be getting enough traction, they will white-glove it and manually add it.
To wrap things up, BCM briefly goes into PIPX, the community proposal created by Signal, as an example of what would need to happen to enable it.
In response to a question by Kalros, Dan shares that the team expects to roll out additional PIPs after July.
Q&A
Q: Signal asks about the separation between the team and the DAO.
BCM: There will be an election of community members for the council. When the doors open to community proposals, these will all go through the council. It's just this first one that goes directly through the team. As the team created it, there is no real role yet for the council.
BCM adds that he has gone through a mental shift recently and realized he does not work for ATMTA, but he works for the DAO instead.
Michael (CEO) chimes in to commend Signal on his efforts on PIPX and taking initiative. He adds that this is just how they are starting off. It should grow into a more decentralized and more autonomous organization. It will just be in this phase that the team is the only route to get a proposal added this year.
Dan: Good question, the disaffiliation of ATMTA from the DAO is an important goal. This is just the first step. ATMTA is just providing services on behalf of the DAO, absorbing all of the costs as well.
In the future, the DAO can pay other service providers as well, and ATMTA won't be involved in that as well.
Q: Kalros asks if the DAO needs to pay for whatever needs to be built/performed
BCM: One of the sections in the template, also used by Signal, is Costs Considerations. And that is where you go into how to work that out.
Michael jumps in: Nothing of what the team currently spends, needs to be paid back. There is no accruing tab right now. This is why there is also money flowing from sales into the team at this time. The DAO won't be hit with a bill for that later.
The team is looking to move responsibility for paying the Foundation to the DAO as soon as possible, however.
Q: Melkor135 asks about translations of material in non-English languages
Basically, the team is hoping the community will get involved in translating content, including proposals. The team is also looking into automatic translation options for their content in the future.