Welcome to our 89th newsletter on Star Atlas! This weekly newsletter is published by Aephia Industries and focuses entirely on Star Atlas. Here we try to aggregate all the newsworthy tidbits that were dropped by the team throughout the past week.
---
As expected, last week was one for the history books! It was a blockbuster of a week, despite the only actual product release being the first issue of CORE Act 2. However, we did get a lot of information on SAGE: REC (henceforth known as SAGE: Starbased) and the team's partnership with Meta Gravity. And to top it all off, the team announced the purpose and function of their upcoming Mobile Companion App!
And then, right before sending out this newsletter, the team dropped a bombshell of an announcement. Unfortunately, it was not a happy one. Michael (CEO) just today announced the reduction of the team's headcount from 167 to 45 employees in order to ensure the company is still around a year from now.
Let's start there.
Workforce Reduction
Michael shared an announcement (6 pages) tonight, stating that ATMTA is undergoing a significant headcount reduction in order to preserve its long-term ability to continue developing Star Atlas. This is done by prioritizing our SAGE and mobile products that are likely to show nearer-term traction while extending development timelines on their other products.
In other words, many good people are being let go. The team was made up of 235 individuals pre-FTX collapse and then shrunk to 167 post that debacle. Now they have brought that back down to 45 talented individuals.
Below is a summary of the announcement that Santi (Community Director) posted on Discord:
ATMTA is restructuring its team, making a hard decision to say goodbye to many passionate and talented builders of Star Atlas.
The restructured team will focus on delivering SAGE and the newly announced Crew Mobile App.
The CORE graphic novel will continue to be released, with the DAC platform being nearly ready for launch.
Development of the Unreal Engine 5 game will resume at a significantly slower pace while still producing future releases. The same goes for the DAO governance system.
This strategic move enables uninterrupted development, ensuring stability for the runway to launch multiple products.
The strategic refocusing also makes Star Atlas more attractive to capital partners with shared values.
Q&A Community Meeting this Wednesday
This Wednesday, July 26th, at 17:00 UTC, there will be a Community Update meeting in the Amphitheatre on Discord, where Michael will answer questions related to his announcement. This is in lieu of the Atlas Brew that usually occurs around this time.
Before that time, people can submit their questions in a dedicated thread on the Star Atlas Discord server.
Star Atlas Companion
In true Steve Jobs' "one more thing" fashion, Michael saved the best bit for last during his PlayGG presentation in San Diego this past Wednesday. The team will release a mobile app (targeted for Q4) that will allow everyone to train crew members through actual, real-life movement. Similar to Web2 games like Pokemon Go or Web3 projects such as StepN, the Star Atlas mobile app will reward movement. The three types of movement supported are walking, running, and cycling.
In the app, you will be able to select one crew member that you wish to train. After that, you can use the app to move about and train that specific crew member. Michael clarified that you can hold as many crew members in the mobile app as you would like, but you can only train one at a time.
In the written pieces, the app is being referred to as a move-to-play app. On stage, Michael referred to this app as move-to-progress. Both are meant to clarify that this is not a move-to-earn application. Movement does not result in you receiving tokens but rather improves one of your crewmembers' skills.
When it launches later this year, the app will be available on both iOS and Android devices!
Alternative
It's good to know that this app only provides an alternative venue to level up a crew member. It is not the only way to do so. You will be able to enhance your crew members the same way through gameplay as well.
Racing First
As the app launches around the same time as Showroom R2.2 will go live, training through the app will initially focus on the Racing Career. As Ground Racing will really come to life with the new Multiplayer foundation provided by Meta Gravity (more on that later), this means the app will tie in nicely to the gameplay provided by the Showroom at that time.
Michael did clarify that, over time, other careers will be added to the app. It won't just be for racers out there.
1000 Crew Members
Some community members were less than happy hearing they could only train a single one of the hundreds, if not thousands, of crew members. It's good to clarify a few things:
When crew members are "loaded" into the app, they will not be available in any other game module (such as SAGE). Hence, you do not want to load all of your crew members into the app to begin with.
There will be a level cap on crew progression, so you will want to swap crew out through time as you hit that cap.
It's racing only for now, and other careers will be added later. You will not want to train all of your crew members as expert racers.
All in all, you will most likely only want to hold a couple of crew members in the mobile app, with the rest slotted into ships.
Extra Rewards
The team's announcement contains the following line: "Help your Crew Achieve Fitness Levels and Earn Rewards".
Now the first part is clear. We are moving to strengthen our crew members and get them in tip-top shape. It's wholly unclear at the moment what sort of rewards are earnable through the app. But it's good to know there will be extra incentives to participate beyond getting some members in optimal shape for racing!
Starbased
During his presentation at PlayGG in San Diego, Michael (CEO) announced the official title for SAGE: Resource Extraction & Crafting! The game we'll all be playing soon is officially titled SAGE: Starbased.
As part of the reveal, the team showed the below teaser video, providing a look at the current state of development:
The video shows off how mining, crafting, and the inventory system will work. Each of these functions will be executed on-chain by a new program written specifically for that purpose.
The video shows off 24 different items that can be crafted using mined resources (directly and indirectly, through other intermediate materials). Though this video shows the current state of development (with plenty of placeholder material) and things may change before launch, you can find the list below.
There are 4 different facilities used to craft each of the 24 items, including a Forge, Processor, Refinery, and Assembler. These are the materials/items listed in the video (again: WIP!) that can be crafted with each of them:
Forge:
Processor:
Food
Ammo
Toolkit
Copper Wire
Framework
Graphene
Repair Kit
Refinery:
Assembler:
Electronics
Power Source
Field Stabilizer
Particle Accelerator
Radiation Absorbers
Aerogel
Energy Substrate
Super Conductor
Strange Emitter
Electromagnet
Meta Gravity Partnership
At PlayGG, the team finally unveiled with whom they are partnering for their upcoming multiplayer solution. It turned out to be Meta Gravity, a relatively young startup based in London, UK.
To prove Meta Gravity could do what is promised, they set up a simulation with the team where they brought a total of 5000 AI-controlled characters into a single instance of the Showroom. Here are some of the screenshots taken while the instance was slowly filling up:
The goal is to push to 30k simultaneous players by the end of the year. And when that is reached, they will try to see where they can go next!
All this is to enable Star Atlas to operate within a single instance. This means that everyone playing Star Atlas will always be able to find one another in-game. Other massive MMO games, for example, the popular World of Warcraft, split their population across multiple instances (realms) because their multiplayer tech stack did not facilitate the millions of players who were playing their game.
Star Atlas hopes the technology created by Meta Gravity will help them prevent having to go down this road. Time will tell!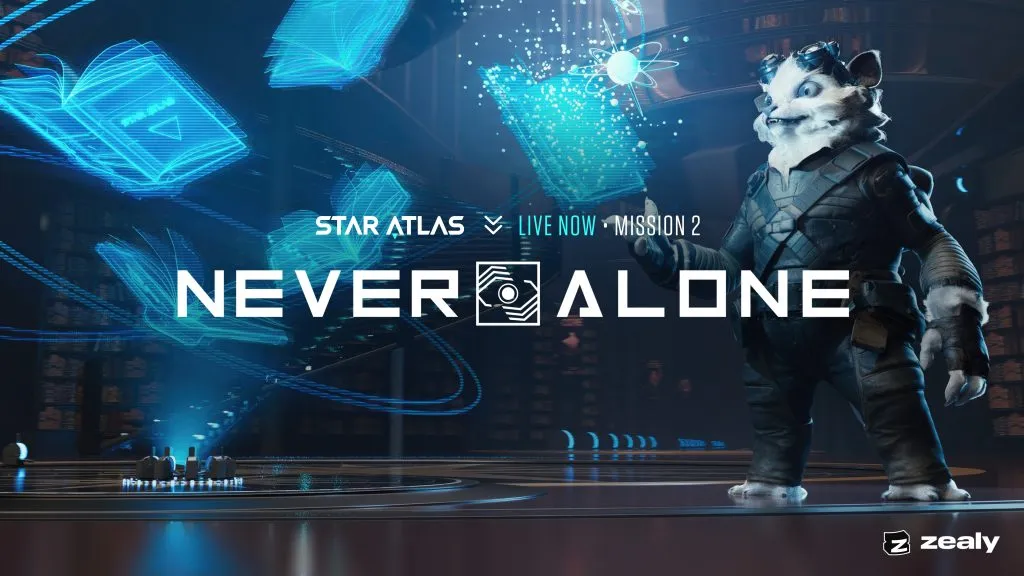 Never Alone – Mission 2
After the barrage of news from PlayGG, this may have flown under the radar for some: The team launched Mission 2 of their Never Alone campaign last week Tuesday! The mission is available within the same Zealy campaign, where all the Mission 1 quests are also still available. The categories have been overhauled. The dedicated Mission 1 and Mission 2 categories contain their respective quests, and the other category at the top contains the Memory quests.
We took the liberty to write a new guide for Mission 2 to get everyone up to speed (Mission 1 veterans and new players alike).
CORE: Act 2
During his presentation at PlayGG, Michael announced the release of the very first issue of the second Act of the CORE Graphic Novel.
All issues from Act 1 can be read for free on the team's website or downloaded (for free) on Apple Books. However, this new issue is not yet available for free, but this will likely be remedied in the near future.
Of course, as before, the team is selling a limited-edition cover at their Galactic Marketplace for 20 USDC, while another limited-edition cover is being sold on Magic Eden for 0.92 SOL (the SOL equivalent of 20 USDC at the time of publication).
These covers are available for a total of two weeks! As of today, there are 9 days left.
Validated Podcast
Solana has had their own podcast for quite a while, where Austin Federa from the Solana Foundation interviews big names from the Solana ecosystem.
Recently he sat down with Michael Wagner, and last week (Tuesday), that podcast was released online.
Michael has been popping up in interviews left and right again recently, but this is one of the more insightful interviews, it having been conducted by the Solana team!
Worth a listen!
Atlas Brew Meetup – San Diego
At the conclusion of the PlayGG event, the team organized a real-life meetup in a local brewery. Roughly 50 Star Atlas enthusiasts (including team members) showed up and had a great time!
Sneak Peaks
The team was kind enough to share some more sneak peeks of their development, including shots of their Pearce C9 commander ship. It can be clearly seen that this ship received more curves than the original concept art depicted.