Welcome to our 85th newsletter on Star Atlas! This weekly newsletter is published by Aephia Industries and focuses entirely on Star Atlas. Here we try to aggregate all the newsworthy tidbits that were dropped by the team throughout the past week.
---
We almost had another week that was going to be low on newsworthy topics, but then the team suddenly threw in an impromptu Townhall last Friday! With the Lore Wiki announced during the Atlas Brew, there is suddenly a lot to cover!
So, what are we waiting for? Let's dive in!
Lore Wiki
Last Wednesday, during the 68th Atlas Brew, the team launched their Lore Wiki. This is to be the ultimate source of all Star Atlas lore that is canon (not community crafted – or AI-generated).
Originally thought to be focused on the DAO release, the Brew team changed topics last minute, and (as we learned later) moved the DAO announcement to the Townhall, 2 days later.
For months people have asked where they might find a nice overview of all the lore that had been shared so far, for them to read through it. For months the team had to say, "There is no such place", but that has finally changed this week!
The new Lore Wiki contains most of the lore released so far, and the team will work on keeping it up to date going forwards. If you love reading about the lore of Star Atlas and the Galia Expanse and the factions & races inhabiting it, be sure to check it out!
Townhall
Last Thursday, Dominic (Community Manager) dropped the news that the team was going to organize an impromptu Townhall the next day. If you missed Townhall #40, scroll to the end of this section!
With Santi enjoying a much-deserved holiday, responsibilities fell to Dominic to take the co-host position, next to Michael (CEO). Both BCM/Blockchain Man (PM – DAO) and Dan Park (Legal Council) jumped on as special guests.
The key topics discussed include:
Volant Station – Showroom R2.1.1 patch
Destination Starbase
Star Atlas DAO & PIP 1
Ship Config V2
In this newsletter, we'll give a short summary of these topics. For more in-depth coverage, check out:
Showroom R.2.1.1 Patch
Announced during the Townhall, and published a few hours later, a brand new patch for the UE5 Showroom went live last Friday. This 2.1.1 patch fixes a ton of bugs, covering many different areas of the game. One of the big ones: the Photo Mode was fixed, which enables the team to now officially start the Photographer Career competition. Other highlights include ship fixes & tweaks, improvements to Ground Racing, and much more!
Be sure to check out the Changelog for a full overview of all the changes.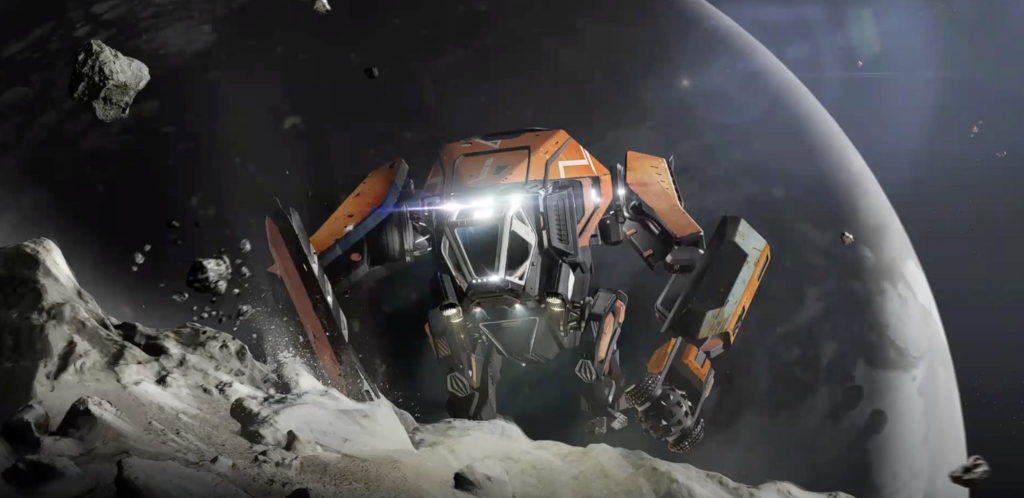 Destination Starbase
After the FTX debacle late last year, the team launched their Start Sequence campaign to add to their financial buffers for a bit. Since then, there have been no new sales introduced.
That will change this week, with the launch of the sequel to Star Sequence, dubbed Destination Starbase! Destination Starbase is all about the introduction of 3 new ships on the Galactic Marketplace, boosting the number of ships released from 49 to 52. But these are no ordinary ships; they are the very first mining-specced ships!
Besides being unique, the team also chose a different release strategy this time around. Instead of releasing 100% of the team's supply to the market, the team will first release 30% of the supply, at a 50% discount!
The rest of the allocation will be released when, either:
the discounted allocation sells out, or
SAGE: REC goes live
This campaign will go live on Thursday, and the team will launch a new brochure before that time!
Armstrong IMP
Let's have a closer look at the new ships coming this Thursday! They are mining ships, constructed by the only known mining-specialized manufacturer in the Galia Expanse, Armstrong.
As these ships are highly specialized in mining, they do not come with any weapons and are essentially defenseless. You may want to bring an escort of combat-capable ships along when venturing into dangerous territory!
The three ships being released are:
Armstrong IMP Tip – Small Mining ship
Armstrong IMP Tap – Medium Mining ship
Armstrong IMP – Capital Mining ship
Hybrid Functionality in SCORE
The three new ships will have dual use in this phase of the game's development. You can choose to enlist these ships in Faction Fleet to generate ATLAS, the same as any other ship you own.
Alternatively, however, you can choose to stake them in the Faction Claims program and generate R4 (Food, Ammunition, Toolkits & Fuel) instead. These are the only ships capable of doing this!
Note that their efficiency in both programs may be a bit lower to offset this benefit. But this is not certain yet. We likely won't know for sure until they are released.
Claim Stakes vs Armstrong IMP
At the moment, both Claim Stakes and Armstrong IMP ships can be staked in the Faction Claims program, where they generate R4. In the future, however, Claim Stakes will be used to claim a plot of land on a planet and set up mining operations there (if you want), whereas the Armstrong ships will be the sole way Asteroids can be mined.
If you're eying a profession as a miner, and do not solely want to rely on the more passive play with Claim Stakes, then these ships will offer you that option!
SAGE: REC
First off, SAGE:REC (Resource Extraction & Crafting), the successor of Escape Velocity, is not expected to be released on short notice. Aephia targeted it for Q3, but it likely won't arrive in July. That is if we correctly interpreted some of Michael's recent remarks.
When REC does arrive, the Armstrong IMP mining vessels can be used to mine asteroids, which is their main purpose in the final game as well. They can do so without spending ammunition, which is the (temporary) way in which other ships will be able to mine asteroids. This means they are more efficient at mining than any of the other ships. In REC is where these ships will start to shine!
Note that Claim Stakes won't be usable yet in REC. They will come into play at a later SAGE release (not expected this year, although the team does like to change things every now and then).
One final note here is that when REC is released, Faction Fleet & Faction Claims won't be deprecated just yet. In other words, you can keep your ships, claims, and Armstrong IMP ships staked if you want.
Star Atlas DAO
This Wednesday, the team will be launching their new Governance application on their DAO platform! This new section of their website will be where new proposals can be submitted, discussed, and voted upon.
One interesting aspect of the new Governance app is that you can endorse comments made by others, which will add your Polis Voting Power (PVP) to the weight of that comment. You will also be able to see every commentator's PVP.
Additionally, the app comes with a public Interest Gauge, allowing players to freely put their PVP behind it, to signal their interest in that proposal. The team will use this to gauge the level of interest and determine when this proposal can move to the voting stage.
PIP1
Polis Improvement Proposal 1, or PIP1 in short, has 3 defining articles:
Blockchain Supremacy Clause – Underscores that the DAO is bound to a set of programs and accounts that operate on the Solana blockchain. Code is law, basically.
Star Atlas Constitution – Enshrines our guiding principles of quality & safety, Community Ownership, and sustainable governance. It also details how the governance process works.
Ratify the Star Atlas Foundation – Our real-world agent, will act on behalf of the DAO and Earth-based legal & business matters.
Passage of PIP1 will allow ATMTA to formally bring the Star Atlas DAO into being. It is a foundational proposal that will lay out the ground rules for how the DAO will operate going forward. As such, it is crucial to get this right. The team expects the discussion around this proposal to last for 4 to 6 weeks at least.
PIP1 will, like all future proposals, go through the following phases:
Declaration – PIP1 starts here this week, along with the release of the updated Governance App
Deliberation – Expected to take 4-6 weeks of debate; this will feature public comments, ongoing community interest-vote, and at least one live debate session (TH-type event with the community)
Decision – Official on-chain vote; will take two weeks
Democratic Convergence – Ratify and open the gates for Star Atlas council elections (part of PIP 1).
Community Proposals
The new Governance App won't support community members creating their own proposals this year. However, the team is leaving the door open for themselves, to add community proposals that:
use the correct proposal-template
are posted, and discussed, by community members in the #governance Discord channel
seem to gain a lot of traction within the community
The team will keep an eye out, handpick the proposals that qualify, and add them manually to the governance application.
This will be a temporary measure, as long as PIP1 has not been voted upon successfully and the team has not yet expanded the capabilities of the app.
Participation
For those looking forward to participating in the discussion: You will need to have at least some locked POLIS into the POLIS Locker to be able to participate in the discussion around PIP1. You will not be able to participate if you do not have any Polis Voting Power.
Ship V2 Config
Over the last few months, a portion of the team has been busy refining the ship metrics/configuration you see when opening their details in the Galactic Marketplace. Chip (Director of Game Systems Design) and his team have spent a good deal of time attempting to improve the ship balances, while adding even more depth to the configuration. They almost had everything prepared by the time the Showroom R2.1 update went live, except for the crew numbers. This is why in Showroom R2.1, you can already see the ships outfitted with the correct amount of static cannons.
This Thursday, together with the kick-off of Destination Starbase, the team will publish the new configuration on the Galactic Marketplace. Chip shared that basically everything has been refined and updated, and you will see big changes to the crew, components, and modules of the ships.
Meetup San Diego – July 19th
As most will know, the Star Atlas team will attend the Solana PlayGG event in San Diego on July 18th & 19th. This event will be open to all, and there is no entrance fee! During the Townhall Michael mentioned that everyone is welcome to visit. The team will be giving presentations and demos throughout the event.
While there, the team is organizing a community meetup (Atlas Brew Meetup) in an actual brewery on July 19th. Both Dominic and Michael have been confirmed to be there, and other team members may attend as well!
News Tidbits
During the 100th episode of the Metaverse Nomads (Congrats!), Michael shared that the total supply of Claim Stakes available would be able to supply 100% of the resources required by Faction Fleet.
On the same show, he shared that SAGE: REC will still come with a loot table, but you'll need to deposit crafted materials. There are conversion rates that will determine the type of loot you'll get in return.
Meanwhile, on Discord, Michael shared has already seen a demonstration of 5000 AI-driven "players" running around the Showroom, using their new multiplayer framework. He cautioned by saying there is still a ton to optimize and tweak before this is ready for public release.
Michael also suggested that Escape Velocity (EV) may come to an end soon! Though this may seem reasonable, with Never Alone Mission 1 also coming to a close in 2 weeks, earlier comments made it seem like EV could be kept running for longer, to close the gap to REC. It looks like this won't be necessary, which is only good news.
Shula (Lead Game Designer – SAGE) shared that in SAGE: REC, crew members will do the crafting, and there won't be a limit to the number of crew members you can have inside the game (doing this). The SAGE Manual released last year did mention a limit, but this won't be the case for REC.
Sneak Peaks
As always, we round off this issue of the newsletter with some of the recently shared imagery by the team: